Journal: July 2000


| | | |
| --- | --- | --- |
| | | |
| | | |
| | | |
Sunday 07/10/00, I've been holding off updating the site until I could finally say that the engine is done. Well, it's done! I think it looks about as good as a stock EFI 302 can look. I'll get some more pictures and comments posted soon.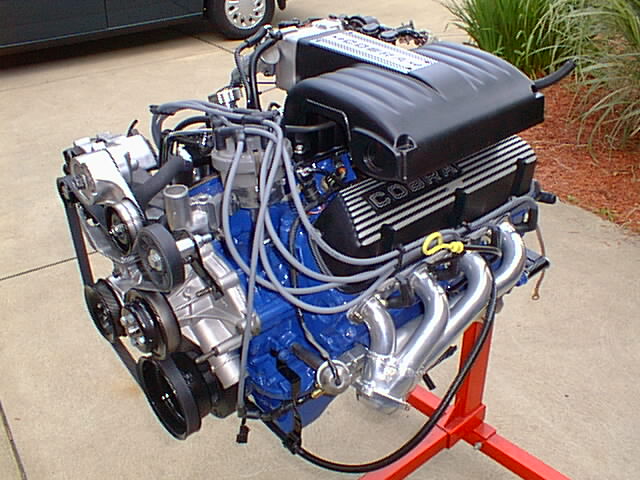 Monday 07/11/00, So the engine is done. The first thing you'll notice is that the headers are on backwards. Actually they are on right for the Cobra. The engine sits so far back in the chassis that they need to be mounted on the wrong side to connect to the side pipes. The Factory Five kit includes a "J" pipe that mates them to the side pipes. Factory Five also recently introduced optional headers that connect directly to the side pipes. It would be a nice option, but I'll try them like this for a while.
The only options I added to the engine were the FMS valve cover dress up kit and the Flowtech headers. Neither was as simple as it should have been. In addition to the problems with the valve cover mounting bolts being too long and the throttle bracket hitting the cover, I found that a vacuum fitting under the plenum also hit the taller Cobra valve cover. A little grinding on the fitting fixed this. I ended up elongating the holes in the throttle bracket to get it to fit.
The picture above doesn't show them, but the larger tubes on the headers prevent the engine lift brackets from bolting on. Again, a little grinding fixed it. Hopefully they will still be strong enough to hold the engine! The larger tubes also made it hard to get some of the mounting bolts in. No problem, but I don't want to take them off anytime soon.

So that's about it for the engine. Lots of cleaning, wire brushing parts and painting, but it turned out great. I'm cleaning up the transmission and starter this week and will get the engine installed as soon as I can line up a hoist and some help.